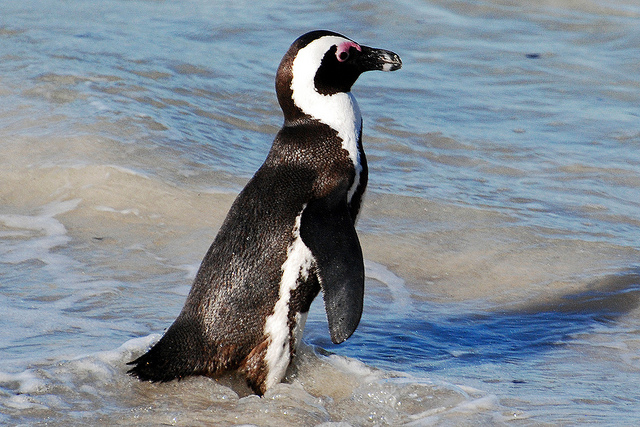 Stay connected to mother nature by hanging out with the sea lions or african penguins (yes that's a real thing), by going face to face with the great white sharks or even crocodiles, by riding on Ostrichs, tuna fishing or whale watching!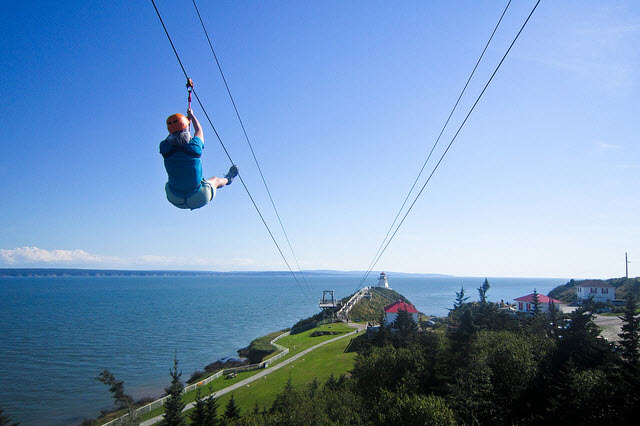 If you are a fan of big emotions and want some adrenaline running through your veins, why not try bungee jumping, scuba diving, skydiving, kitesurfing, SUP (stand up paddle – adrenaline for begginers), canyoning, surfing, ziplining, paragliding or even sandboarding!.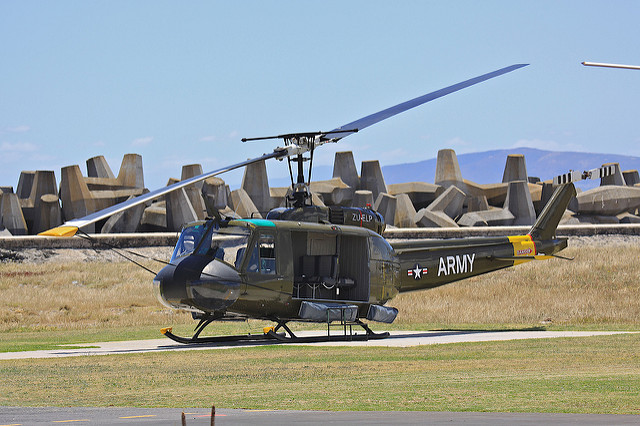 Fancy seeing Cape Town from another perspective? Hop on a helicopter and take a tour, they even have old school military choppers. If heights are not your thing you can always try the sea and take a leisurely boat cruise or a posh yacht. By land you can rent a bike or a scooter to explore the city or get a segway to explore a winery.
African Penguins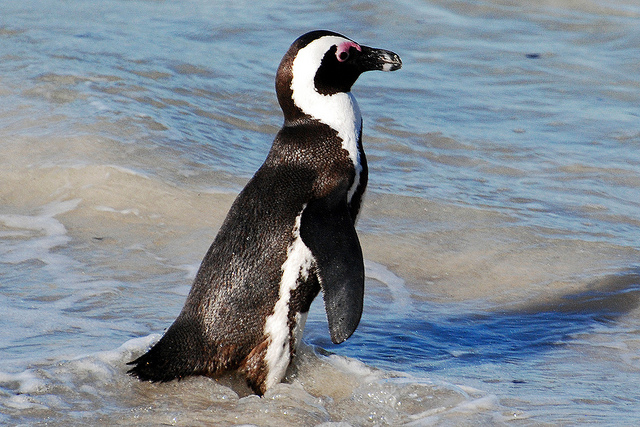 A colony of African penguins is the reason why you should visit the calm and crystal clear waters of Bolders Beach in Simons Town, a small port town that is located 45kms from the center of cape town.
It all started in 1983 when a couple of penguins settled in the area and since then more than 2100 penguins are accounted for in that colony in an area that is part of the table mountain national park in a government-protected environment.
Through Foxy Beach visitors pay for a gateway that gives access to most of this colony of African penguins and walking through wooden walkways can watch birds sunbathing and eventually walking back to their nests, that's if these forgetful birds remember where they left their eggs. (Yes! With the strong sun and intense heat they will cool off in the icy waters of the beach and often forget where they left their own eggs !!)
Tips: There is another beach with free access and where you can see a few penguins scattered around and take pictures close-up. But not so close: despite appearing fluffy and cuddly creatures, these birds have a beak as sharp as a blade and in the presence of imminent danger they may bite! So keeping a friendly distance is always advisable.
Great White Shark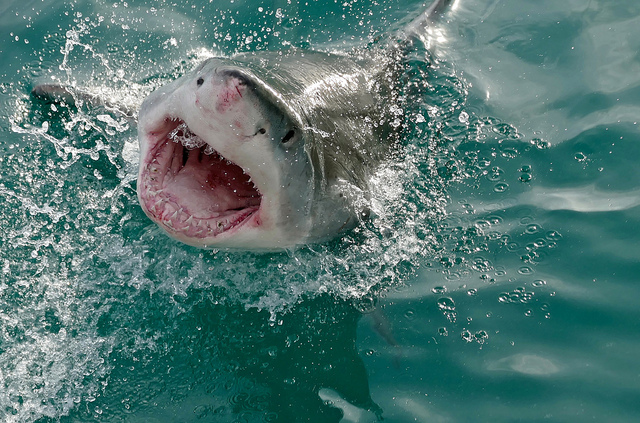 Have the jawsome experience of coming face to face with the great white shark in its natural habitat by diving inside a protective cage. If the idea of diving is not in your plans, no problem! Watching the great predator of the seas is still possible from the boat. You can cage dive or view the great white sharks in these top 3 white shark destinations:
* Simons Town (45mins form Cape Town)
* Gansbaai (2 hours from Cape Town)
* Mossels Bay (5 hours from Cape Town)
The sharks can be seen all year round, but winter is considered the high season (May to October) because at this time the waters are warmer (as incredible as it may seem) and the visibility is better. It is also in the winter that these 2.5m-5m creatures go out to hunt the seals around the island.
The attraction is considered very safe. The South African cage-diving industry is regulated by a Code of Conduct and regulations from Marine and Coastal Management (DEAT – Department of Environmental Affairs and Tourism). Apart from incidents due to the boat or cage itself, and seasickness and dehydration, no shark-related injuries or accidents to guests have been recorded in over ten years.
Tips: You do not need any previous experience for cage diving and all equipment is included. Just bring your swimming costume. Generally you will receive a voucher for another attempt to cage diving if the waters are cloudy and the observation of the sharks is not possible.
Every year between June and December, the southern right whales take holidays in Capetonian waters and many of them can be seen very close to the beaches of Llandudno and with luck even from Sea Point. But it is on the renowned and famous Cape Whale Route where you'll find the perfect spot for whale watching. On this route you'll visit small charming towns like Betty's Bay, Kleinmond, Hermanus, Pringle Bay, Stanford and Gansbaai.
Hermanus is the largest town along the Cape Whale Route and is rated one of the top 12 whale-watching locations in the world by the World Wildlife Fund. It offers excellent accommodation, restaurants and adventure activities. This beautiful city is particularly famous for its whale watching, so the annual Hermanus Whale Festival is a must.
In Hermanus you can visit the whale museum and even book a table in one of the restaurants overlooking the sea, to watch the huge mammals even by candlelight !!
Of the whale species seen in the waters around the Cape, southern right whales are the most common. However, you might also get a chance to see Bryde's whales and humpback whales.
Tips: If you do not want to travel so far to see the whales, go to False Bay coastline where you will find a few great whale-watching spots such as Cape Point, Boyes Drive between St James and Kalk Bay and Clarence Drive between Gordon's Bay and Rooi Els .
Now if you want to travel further to check out the whales, go to Cape Agulhas. The southern most point of Africa. There you will find the Whale Trail, a five-day hike along the cliffs, dunes and beaches, giving you a wonderful opportunity to view these mighty mammals and their offspring.
Seal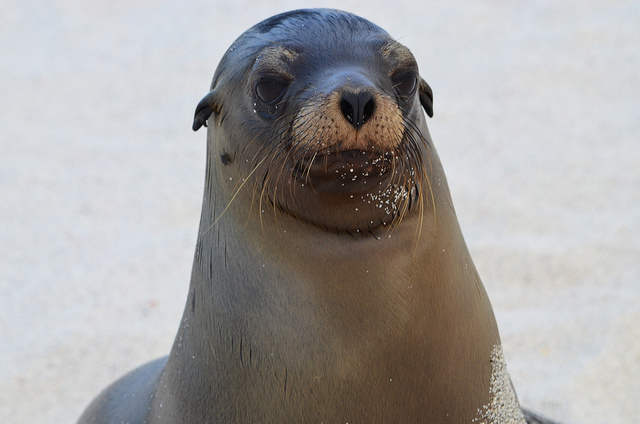 When you think of the best marine wildlife experiences, what about taking a boat ride to an island that houses a large Cape Fur seals colony and interact with them in their own environment and on their terms.
Cape Fur seals occur naturally on islands around the African coast and are now found elsewhere in the world.
The Duiker Island also known as Seal Island, is an island off Hout Bay, a city 20 miles south of the Cape Town City Bowl, situated in a valley on the Atlantic seaboard of the Cape Peninsula. Duiker Island is home to about 7000 seals and lies within the Karbonkelberg marine protected area, part of Table Mountain National Park, Cape Town.
The boats leave daily and there are options of tours of 40 mins or 60 mins and options of private cruises and sunset cruises are available in case you need it for special events such as parties, weddings, corporate functions and any other group wanting to book the Boat
Fancy snorkeling with the Cape Fur seals? Go for it! Seal Snorkeling is possible all year round, but from September until May is the high season. The most consistent and warm weather conditions occur from December to February. Snorkeling during mid-March and April is great as the seal pups have just learned to swim and enter the water to play. From May till September is considered the low season and the seals are less active.
Ostrich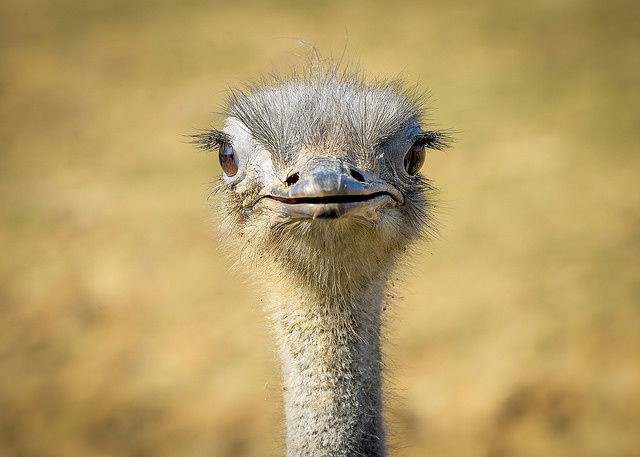 Have you thought about ostrich riding? If yes, this is the right place! If not this also the right place! Not only is it possible to ride an ostrich (or at least try) but also to take a photo of the ostrich with it stopped, having Table Mountain as a backdrop.
In the ostrich ranch you can:
* Feed these native African birds.
* Stand in an ostrich egg (not a joke, but you have to do the tour to learn why it does not break …)
* Meet the puppies.
* Spot the official Guinness Book of Record for world's smallest ostrich.
* Visit their museum.
* Eat a steak or hamburger of ostrich meat.
* Check out other animals as such as crocodiles, tortoises, peacocks and cheetahs.
Birds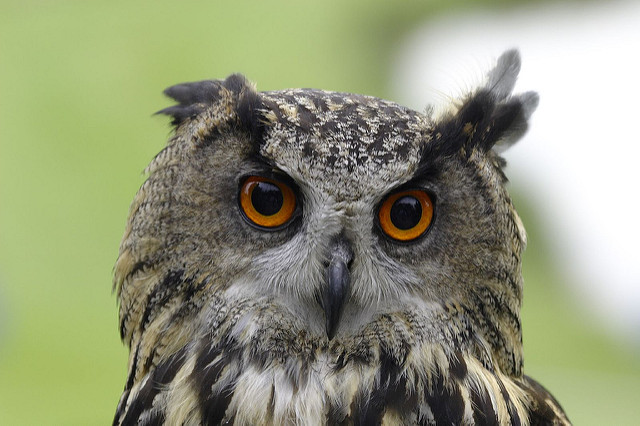 The World of Birds is the largest bird park you will visit in Africa. This sanctuary in Hout Bay is only 10kms from the center of Cape Town and houses around 3000 animals and about 400 species. In this park, that is a perfect attraction for the whole family, you can enter in aviaries and continue through the various cages to get a close look at many exotic birds from all continents.
Besides the birds, you can also check out some small mammals such as:
*Baboons *Meerkats *Monkeys *Marmosets *Tamarins *Squirrels
*Mongooses *Foxes *Genets *Racoons *Guineapigs* Porcupines
And some reptiles such as:
* Terrapins * Green Iguana * Rock Monitors
* Tortoises * Blue-tongued Skinks
The World of Birds is open from 9:00 a.m. to 5:00 p.m., every day of the week, 365 days of the year!
Tips: 
Feeding Times are:
Penguins – 11:30 a.m. & 3:30 p.m.
Pelicans – 12:30
Cormorants – 13:30
Birds of Prey – 16:15
The Monkey Jungle is open from 11:30 a.m. – 1 p.m. and 2:00 p.m. – 3:30 p.m.
Crocodile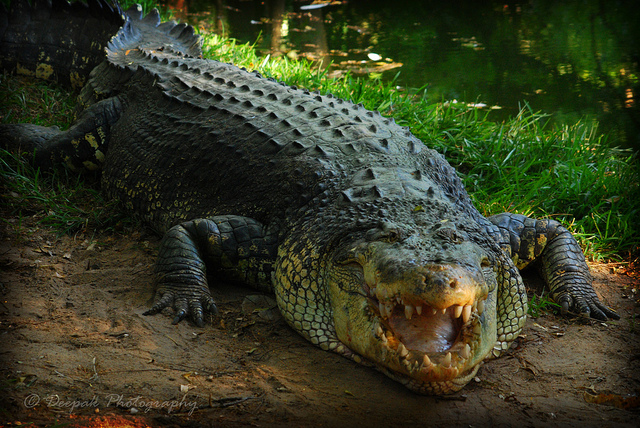 Another jawsome experience, but this time with thick tails included, is the dive with crocodiles. African Crocdive sits on Le Bonheur Crocodile Farm, home to over 1000 crocodiles. It is possible to watch and experience these incredible predators in their own environment for about 30 minutes.
The idea of getting wet or too close to the crocodiles does not seem interesting to you? Okay. You can still take pictures outside the viewing box while they are fed by the croc handlers, eat breakfast or lunch in the restaurant and then with the help of the guides hold a crocodile cub.
Africa Crocdive is guaranteed fun for adults and children.
Fish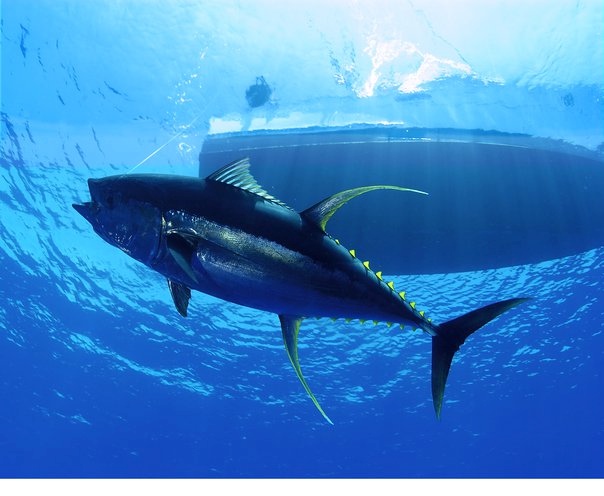 Do you know those pictures of fishermen holding giant fish? You can have a picture like that if you go tuna fishing! The best months for tuna fishing are from October to June.
You can also fish local specifies such as Yellowtail and Snoek, which makes for great fun and a slightly lighter challenge with the added bonus that it can fit into a half-day charter.
Sea Life

The southern tip of the African continent is the meeting place of two mighty and bountiful oceans, the Indian and the Atlantic. The Two Oceans Aquarium at the V&A Waterfront, Cape Town is ideally positioned to showcase the incredible diversity of marine life found in these two oceans.
The Aquarium is one of the top tourist attractions in Cape Town and over 3000 living sea animals, including sharks, fishes, turtles and penguins can be seen in this spectacular underwater nature reserve.
What could be better than a magnificent sightseeing tour of Cape Town from the sky?
From the vantage point of a helicopter, you'll have unforgettable views of this beautiful city.
You can choose to go flying along the breathtaking views of the Atlantic seaboard and the stunning 12 apostles, the historical Robben island, the scenic views of Chapmans Peak, Table Mountain and Noordhoek beach, the Cape Point, winelands and even over a Safari.
Feel the adrenaline pulsing through your veins, the wind rushing through the open doors and the thundering sound of this genuine military helicopter.
The authentic Vietnam-era helicopter called Huey!
The flight time depends on where you are going and varies between 16 mins and 90 mins.
Yatch & Boats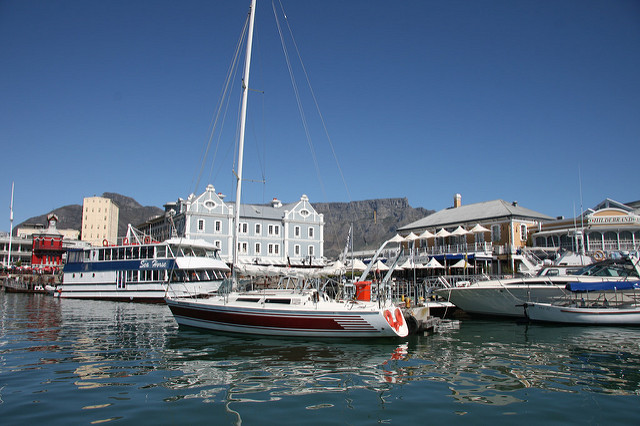 Smell the sea. Fell thhe breeze. Hear the ocean. Be at ease.
Relax and enjoy another awesome day in Cape Town with some sparkling wine or champagne on a sunset cruise (duration – 90 mins). Or a Bay cruise (duration – 60 mins or 90 mins), or whale watching on an eco cruise (duration – 180 mins, seasonal june – nov), or a harbor cruise (duration 30 mis or 60 mins) or even a jet boat cruise (30mins – 60mins).
There is another option if you want to experience a luxury cruise: yacht tours. You can have the scenic morning, afternoon or sunset cruise along Clifton Shores (duration – 2hs). .
There are also other options:
The Granger bay and Clifton cruise (duration – 3hs).
The Atlantic seaboard with Clifton and Robben island included (duration – 4hs).
Private charter is also available for all day cruise.
For all the yacht cruises there is a maximum of 12 guests.
All cruises depart from Waterfront.
Bike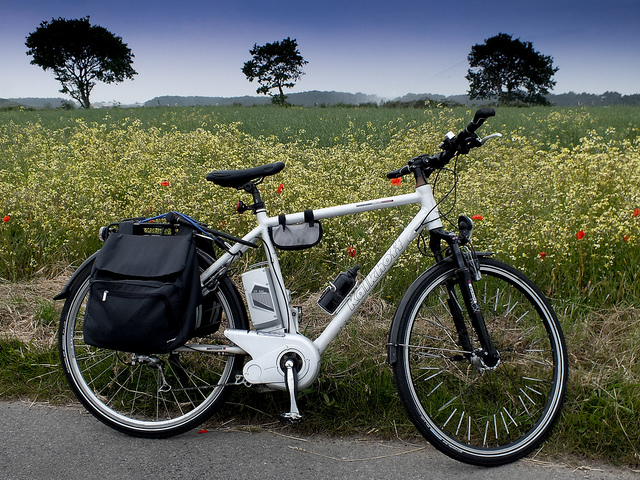 Cycling is an easy, sustainable, efficient and probably the most fun way to get around Cape Town!
While in Cape Town the Seapoint Promenade is an excellent place for leisurly rides – it runs the length of Sea Point's beachfront, from Bantry Bay to Mouille Point where it connects to the Green Point Urban Park. This scenic route is completely free, with safe cycle paths and is suitable for kids and riders of every fitness level.
With mesmerizing views of city, sea and mountains it is the perfect place to watch the sunset and take some nice pictures or stop off for an ice-cream and watch people go by.
You can rent conventional bikes to ride around the city, mountain bikes for adventure riders delivered at your doorstep or even electric bikes!
Tips: for groups of five or more riders, or for special occasions, Up Cycles bike rental is open for full moon bookings.
Segway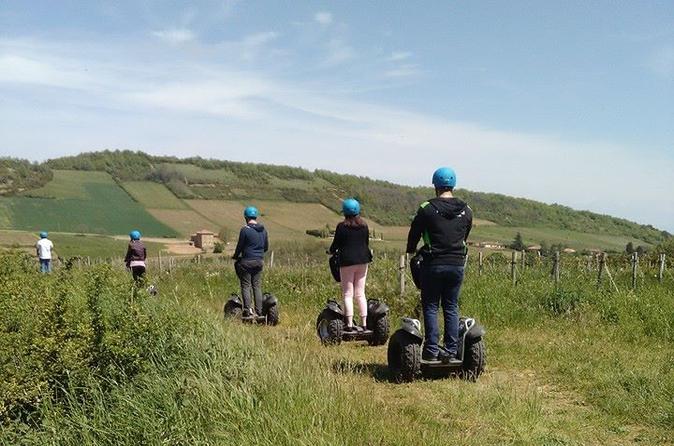 The Segway is a two wheel vehicle invented in 2001 that works with the balance of the person who uses it. It may take some time for you to learn to trust it and be able to go from here to there and from there to here, but once you've got the hang of it, I guarantee you'll love the experience.
Even more when this experience can be associated with the visit of one of the most famous wineries in South Africa, in Stellenbosch, the Spier – which has  award winning wines, a world class hotel, conferencing and wedding space.
There are 3 types of Segway tours:
* Spier Farm Tour – This tour provides magnificent views of the Stellenbosch Mountain Range and even Table Mountain (duration: 1h).
* Vineyard Tour – This tour includes the Protea Garden and natural water recycling plant, as well as riding further on the farm through the entire Spier Wine Farm vineyards. Magnificent views of the Stellenbosch Mountain Range and even Table Mountain. Afterwards, you will enjoy a complementary wine (grape for children) tasting, consisting of 3 preselected Spier Wines (duration: 2hs).
* Sunset Tour – the beautiful sunset cruise through Spier's vineyards (duration: 2 hs).
Scooter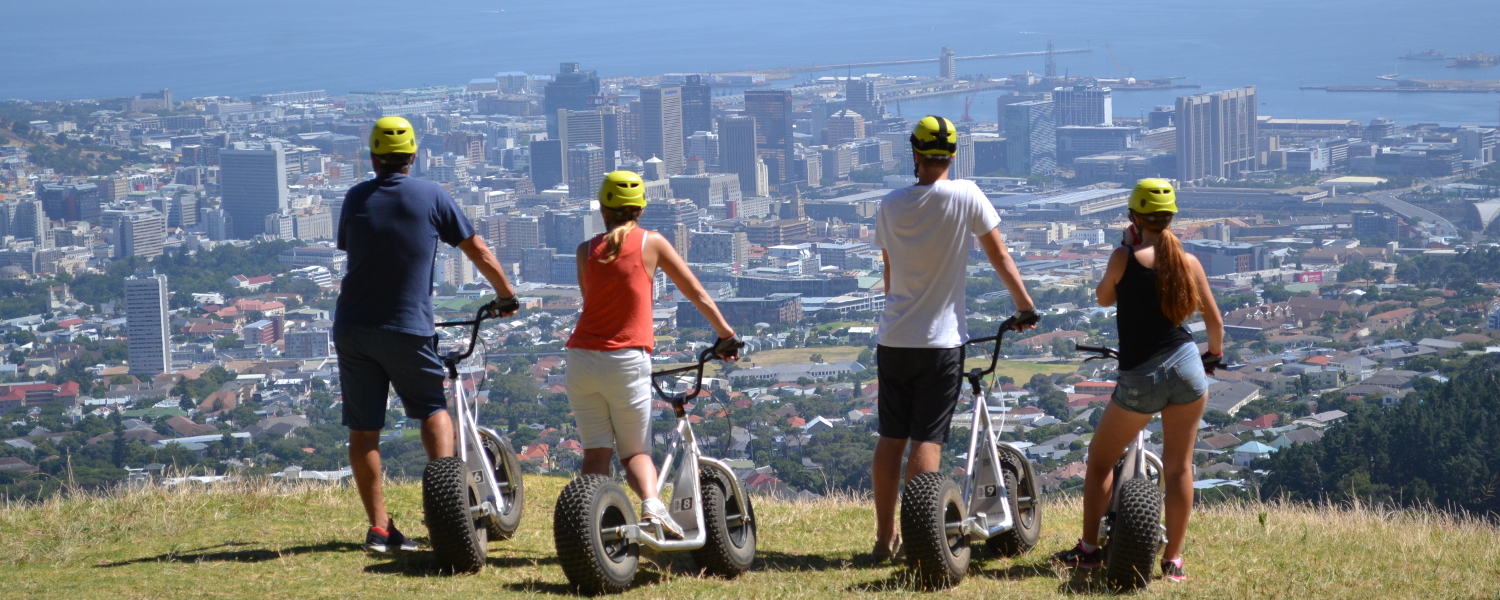 Enjoy an exhilarating downhill descent on the Monster Mountain® Scooters. Scooters are non motorized making this an eco friendly adventure. These Swiss designed scooters are used in the Alps during their summer season on the ski slopes when the snow has melted.
You can try the scooter tour in 4 places:
* Drakensberg – based in the Central Drakensberg, KZN, South Africa at Dragon Peaks Mountain Resort. We are located on the R600 via Winterton next to the world famous Drakensberg Boys' Choir. It's 4 hours away from Johannesburg and two and a half hours drive from Durban.
* Table Mountain – This 5 km track will take you on an adventurous off road track down the side of Signal Hill into Bo Kaap. The Experience continues as you are transported to Table Mountain for you final run down to single track off this world famous land mark!
* Knysna Forest – A unique and true forest experience. Enjoy an exhilarating downhill on the Monster Mountain Scooter, descent through indigenous forest, sweepy bends and single track. The scenic minibus ride takes you into the heart of the forest to the best hills to start your descent in the Garden Route National Park. All of this while on the lookout for the local wild life, the majestic Knysna loerie, the shy bushbuck and wild boar.
* Franschhoek – There are two types of tours: the Adventure Scootour – during the tour you will free-wheel along sections of the historic 1825 Holloway Pass and 1819 Cats Path ox wagon trail that ends at Haute Cabrière Cellar Restaurant. Participants enjoy picturesque views of the Franschhoek Valley as well as the pristine fauna and flora of the Mont Rochelle Nature Reserve and is perfect for adventurous travelers.
Or the Franschhoek Family Scootour – This tour is perfect for families with kids. During the tour you will be free wheel down the gentle slopes of wine farms. The route is easy to navigate and the only requirement is that you are able to ride a bicycle. Kids from the age of 10 years and up to ride their own scooter. Kids between 4 and 9 can join their parents as Passengers.