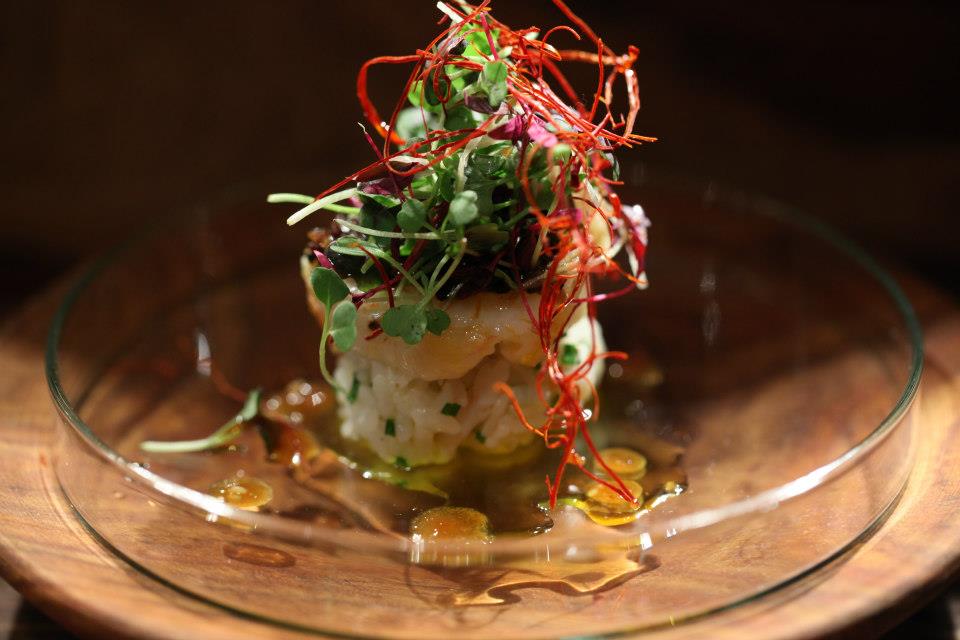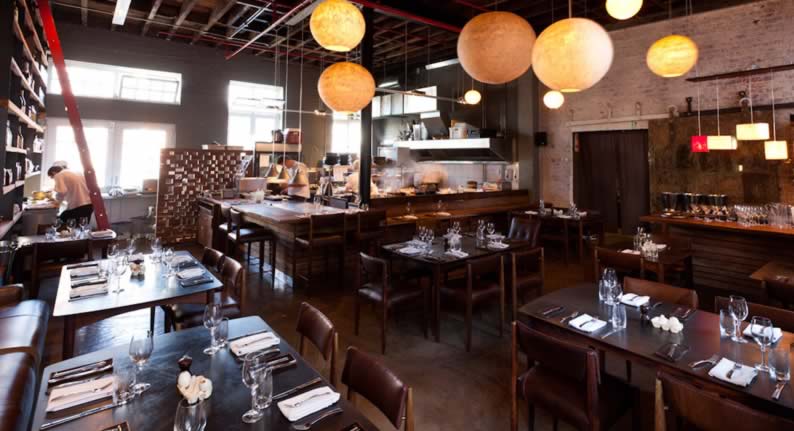 Reasons to go: The Test Kitchen, located in the trendy Biscuit Mill complex in Woodstock, was recently ranked 22 in The World's 50 Best Restaurants in 2016, as well as Best Restaurant in Africa in the Continental Restaurant Awards 2016, and seeks to honour the best restaurants and chefs in the country. The Test Kitchen, which opened in November 2010, sees the chef cooking his distinctive style of cuisine in an intimate space that also delights design aficionados.
Luke Dale-Roberts is an English chef and trained in Switzerland and England before heading to Asia for a five year stint, launching several restaurants in Singapore, Malaysia, South Korea and the Philippines. "My time in Europe taught me to cook; my time in Asia broadened my horizons", says Luke.
Since coming to Cape Town in 2006, Luke has consistently proven his world-class standing with a string of awards and accolades. Luke has continued to garner awards at The Test Kitchen, winning the title Chef of the Year at the 2011 Eat Out DStv Food Network Restaurant Awards. The Test Kitchen moved up from No.2 in 2011 to win the Restaurant of the Year in 2012 Eat Out DStv Food Network Restaurant Awards.
To get the experience of tasting his fantastic food, it's highly recommended to book in advance. Yo can also make reservations online.
When: Tuesday to Saturday.
From: 18:00 – 21:00.
Where: The Old Biscuit Mill, 375 Albert Rd.
Contact Number: +27 21 447 2337.
Website: Website or Facebook Page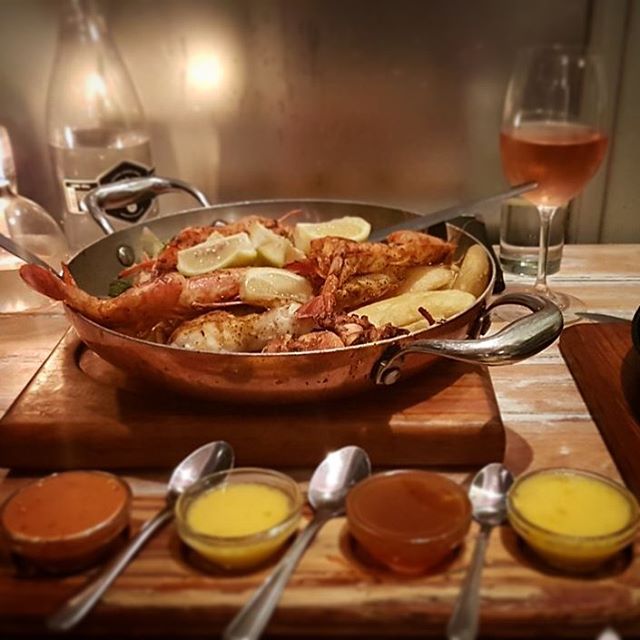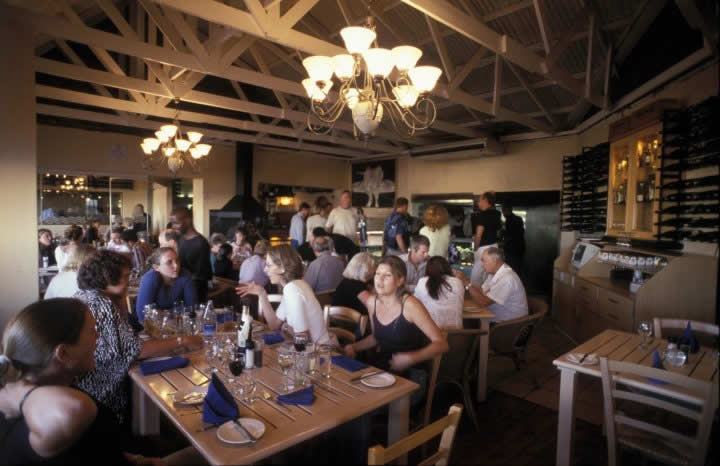 Reasons to go: Codfather is the most reviewed restaurant in South Africa and the most popular restaurant in Camps bay for over 17 years with a busy and buzzing contagious atmosphere.
They have an amazing extravaganza of fresh fish, delectable shellfish and delicious, innovative sushi. The freshness quality and variety is spectacular – Giant prawns, Oysters, Langoustines and Crayfish, tender Falkland's Calamari and huge variety of the freshest Linefish.
Note they have no menus. Their warm and highly trained waitrons instead guide you through our extensive array of delicious and incredible selection of fresh seafood and help you to select an individual plate or platter for the table. They will explain as to the different tastes and textures of the seafood and how the food is prepared and served and show you the cost of your selection.
You can also choose the sit around the conveyer belt and get the plates you want. The price is according to the color of each plate.
You can create your own platter or one for the table to share, or simply have fish and chips and enjoy the warmth and genuine care of the staff, like guests in our home. In other words the options and possibilities are endless.
Should you require a quieter and more intimate experience dine in their exclusive Wine Cellar surrounded by thousands of beautiful bottles of wine.
For the cold winter nights we have a large open fireplace.
When: Everyday.
From: 12:00 – 23:00.
Where: 37 The Drive – Camps Bay.
Contact Number: +27 21 438 0782.
Website: Website or Facebook Page 
–  #3 Marco's African Place –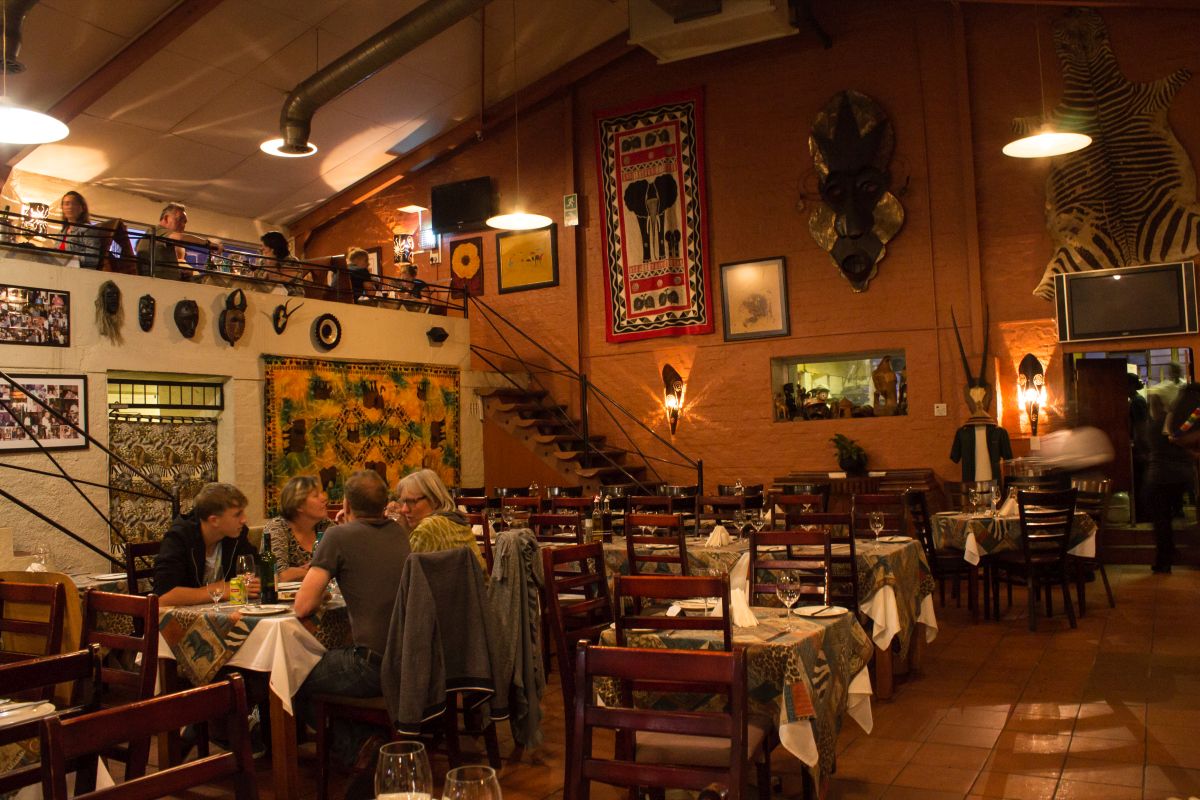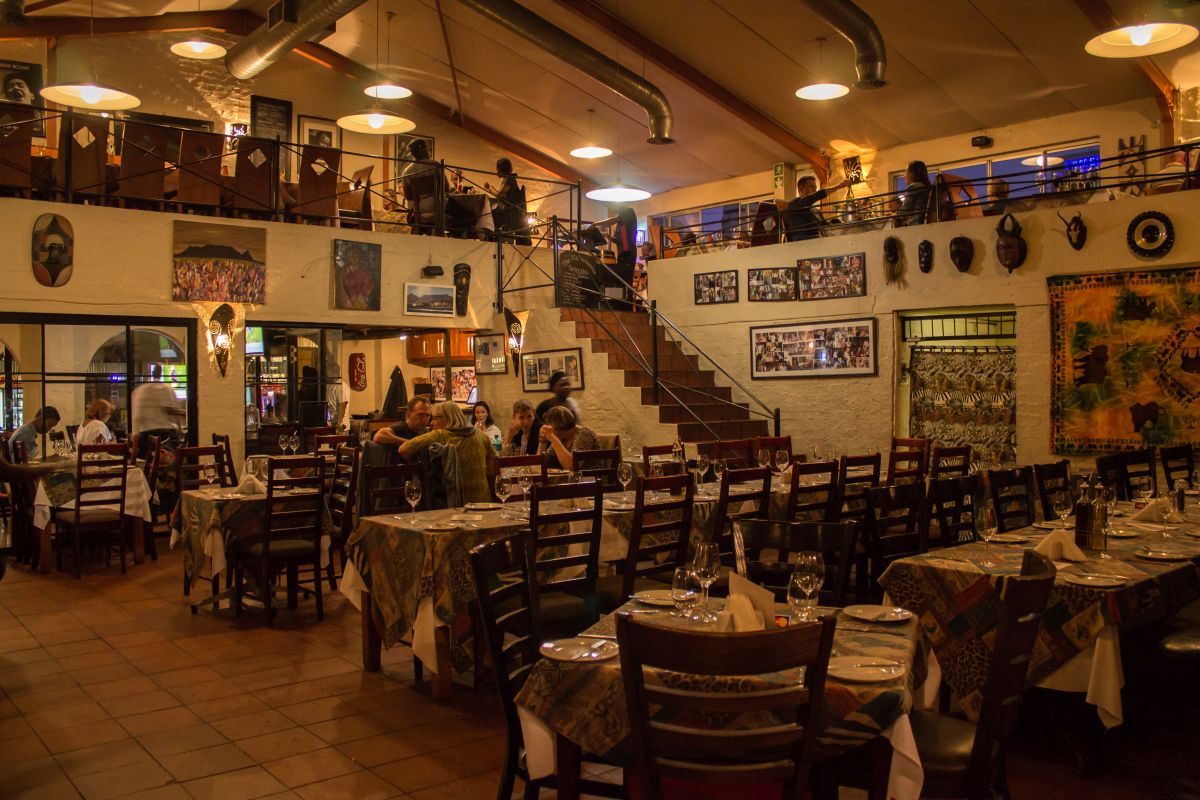 Reasons to go:
Marco, chef and owner of Marco's African Place, is the first black restaurateur in Cape Town. In 1989 he opened his first restaurant in Cape Town.
With a mix of traditional and Mediterranean food and live entertainment, Marco's has become a landmark in Cape Town's culinary landscape.
Marco's African Place was established in 1997. It is a 220 seater, fully licensed restaurant and bar. It is located in the Schotsche Kloof / Bo-Kaap area of Cape Town, South Africa.
Since opening it has become a popular venue for both local and international patrons who follow exquisite African Cuisine and African Music.
At Marco's African Place, they always have the best live music that will entertain you the entire night. Enjoy the best local African music and dance, performed by only the best marimba bands around.
Some Marco's specialities you need to try:
Pan African Platter – Springbok, Kudu & Ostrich
Crocodile & Impala
Traditional Xhosa Dishes
Home-Brewed African Bee
When: Everyday.
From: Tuesday – Friday: 12h00 – 23:00. Saturday – Monday: 15h00 – 23:00. Public Holidays: 15h00 – 23:00. Closed on Christmas Day
Where: 15 Rose street, Bo-Kaap.
Contact Number: +27 21 423 5412
Website: Website or Facebook Page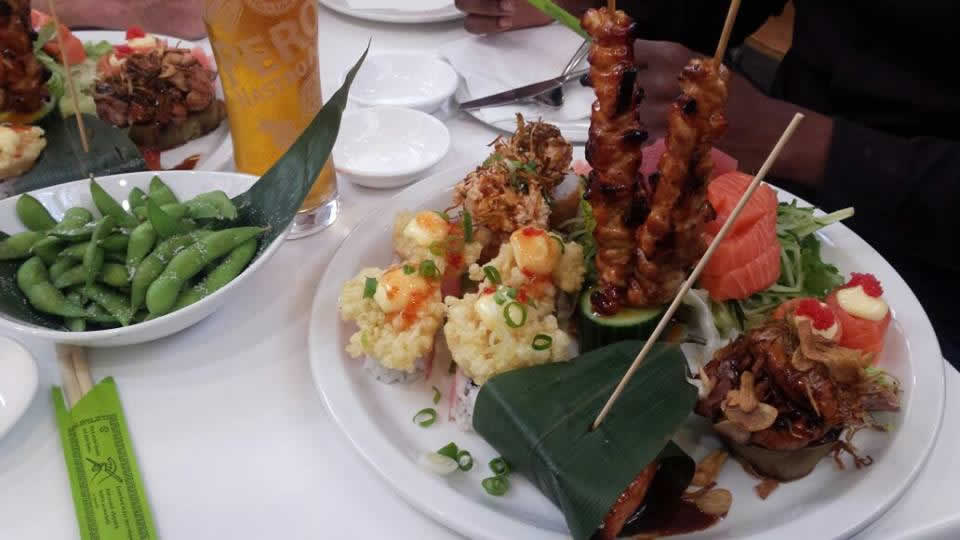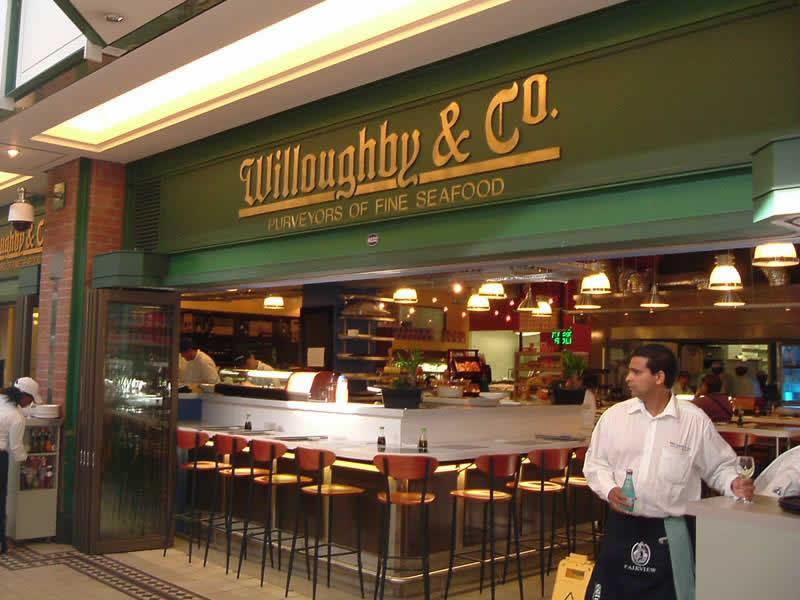 Reasons to go: Since opening in 1996 Willoughby & Co has offered its guests a full Japanese culinary experience. Head Asian chef, Sam, and his dedicated team have continued to create new and exciting dishes. Through these creations thousands of patrons have been introduced to fusion style Japanese cuisine, for which Willoughby & Co has become world renowned.
Willoughby & Co offers its clientele a full Japanese kitchen, ranging from the freshest sushi to tempura dishes, oyster shooters to soups and salads. Add to this a comprehensive selection of seafood and carnivorous delights.
Willoughby & Co serves the freshest sushi and at a great value. The only turn off is that it's inside the mall at the V&A Waterfront and chances are you will be eating in the middle of the corridor but don't let that fool you. Locals line up for this daily.
When: Everyday.
From: 12:00 – 22:30
Where: Shop 6132, Victoria Wharf, V&A Waterfront.
Contact Number: 021 418 6115.
Website: Website or Facebook Page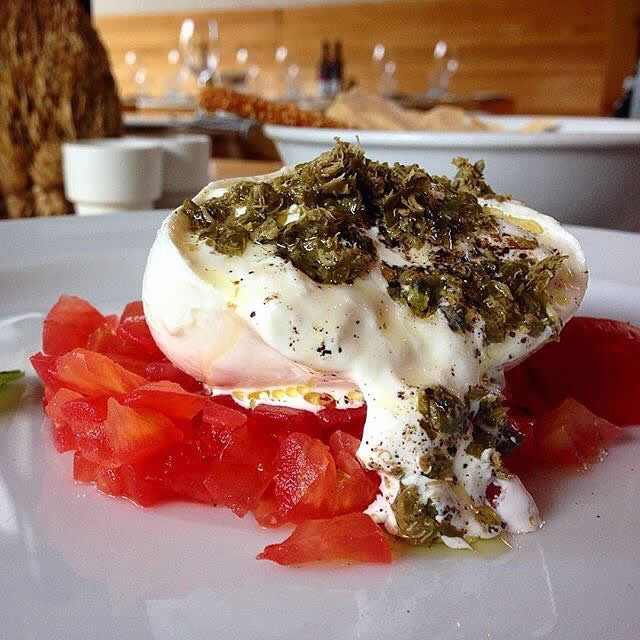 Reasons to go: 95 Keerom Street, circa 1682, originally housed the stables and slave quarters of the Company Gardens. Many of the original elements, including the façade and brick walls, have been saved in the restoration process. These fascinating features, combined with the elegant, modern lines of the décor, contribute to the eclectic atmosphere of the restaurant.
The upstairs area is open-plan and modern, setting an extremely glamorous tone. Alternatively, we have three smaller rooms downstairs which provide a quieter, more intimate space. In addition to this, a versatile private dining room can be configured to cater for up to twelve people – ideal for celebrating special occasions!
The 95 Keerom is the home of world known Milanese Chef Giorgio Nava, who is also chef and owner of the esteemed Carne SA (winner of Eat Out's Best Steakhouse for 2013)and  has recently opened a second, smaller Carne on Kloof Street to supply growing demand for his excellent, meaty fare.
Check out their website for their menu list and to make a reservation online.
Just please note:  95 Keerom only welcomes children over the age of 12 years.
When: Monday – Saturday.
From: 19:00 – 23:00.
Where: 95 Keerom Street.
Contact Number: +27 21 422 0765.
Website: Website or Facebook Page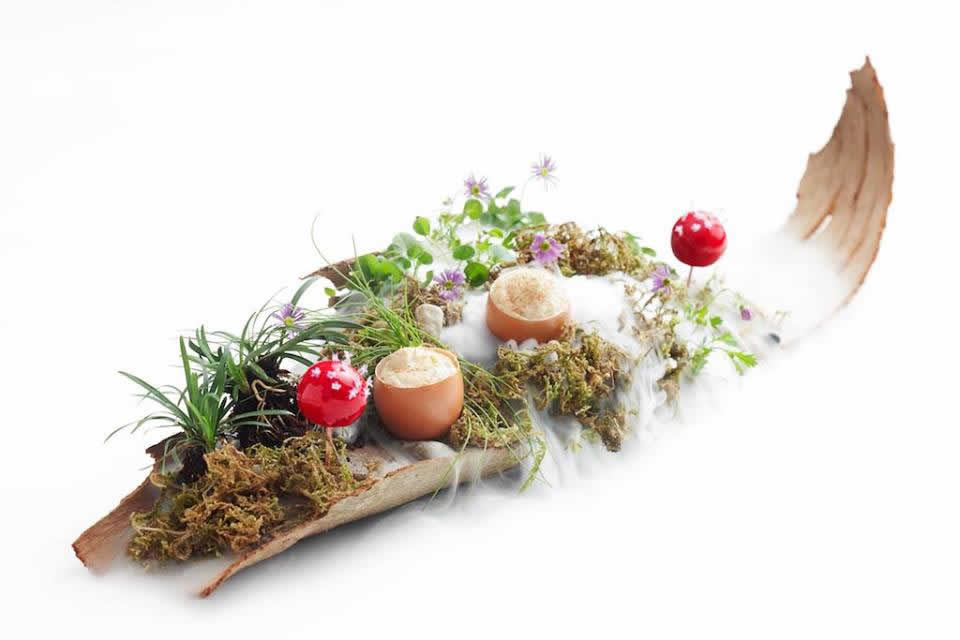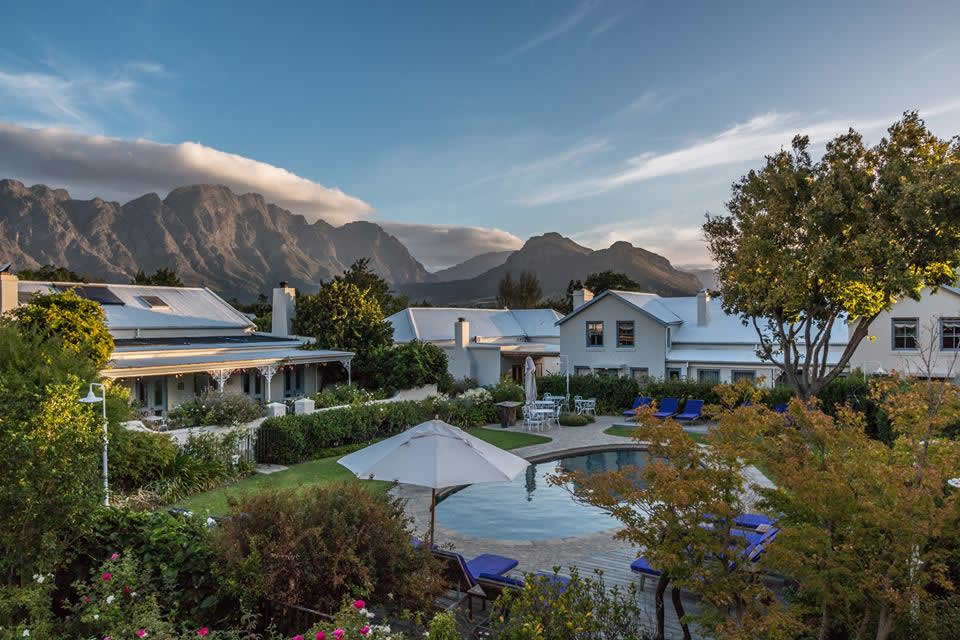 Reasons to go: La Colombe is one of Cape Town's most well-loved and awarded restaurants:
2017
World's 50 Best Restaurant Awards (73rd position)
2016
Eat Out Top 10 Restaurant (Runner up)
Eat Out Service Excellence Award
Eat Out John Psillos Outstanding Contribution to Service Award (Jennifer Hugé)
Trip Advisor Top 20 Restaurants in the World
Trip Advisor Best Restaurant in Africa
World's Best 50 Restaurant Awards (76th position)
2015
Eat Out Top 10 Restaurant (Runner up)
Eat Out S. Pellegrino Chef of the Year (Scot Kirton)
Trip Advisor 2nd Best Restaurant in Africa
 La Colombe is a Contemporary French-meets-Asian fine dining.
When: Everyday.
From: 12:30 – 14:00. 19:00 – 21:30.
Where: Silvermist Wine Estate, Constantia Nek.
Contact Number: +27 21 794 2390.
Website: Website or Facebook Page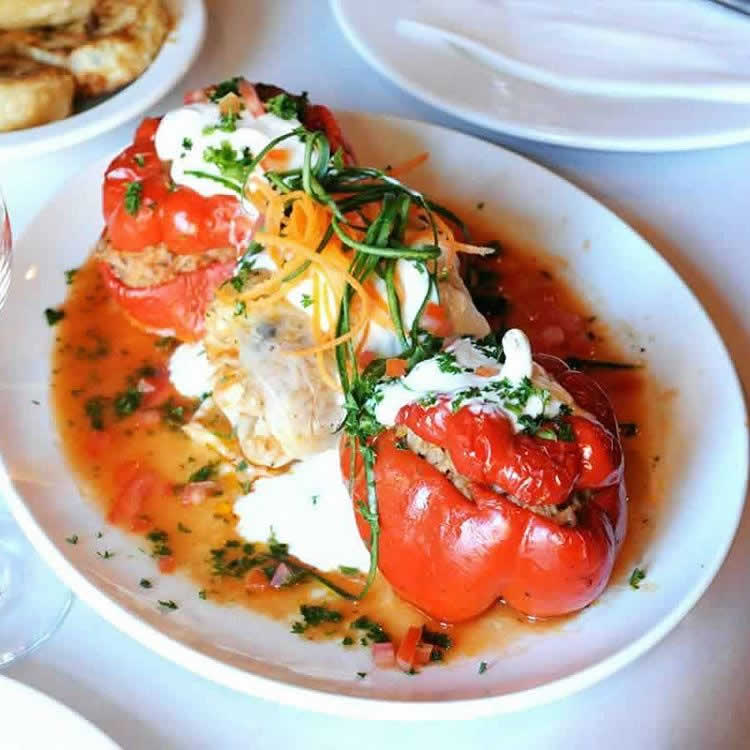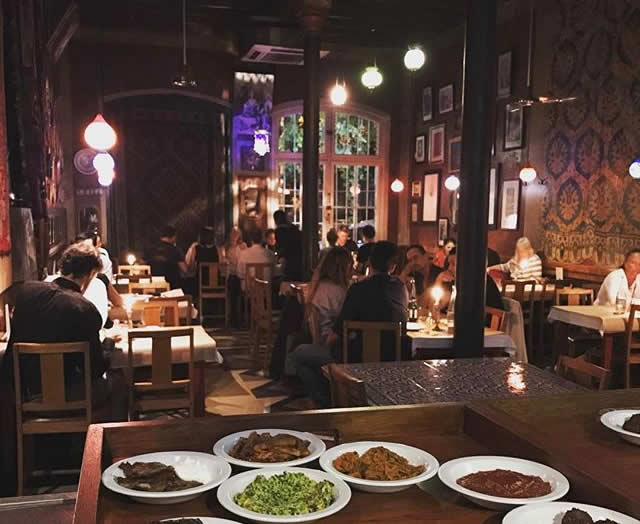 Reasons to go: Anatoli's has been around for many years and is still the place to meet and eat if it is Turkish food you want.
The Reception and service is warm and attentive. The Mezze choices is enormous and we recommend caution that you don't overdo things here and leave no space for mains and desert.
Just such a pleasure to come back time and again over the years to a spot that does not disappoint..
Anatoli owner, Tayfun Aras, is the Turkish-born visionary behind the restaurant. Though he studied to be an archaeologist, his passion was in food. In 1989, he befriended the original owners of Anatoli, Bevan and Mustafa.
Then, 9 years later he and his family moved to Cape Town permanently and his reign at Anatoli's followed soon after.
Tayfun combines classic Turkish fare in a modern, ingredient-focused menu with upscale comfort food and impeccable hospitality. His rich experience shows through gorgeous, flavourful and unpretentious food with a focus on freshly sourced local and Turkish ingredients.
They have a passion for pure flavour, quality ingredients, and for creating an atmosphere that is inviting, approachable, and a haven for Capetonians who simply love to share food.
On Saturdays night belly dancing adds a vibrant and traditional atmosphere to the turkish restaurant in Green Point.
When: Monday to Saturday.
From: 18:30 – 24:00.
Where: 24 Napier Street, Green Point.
Contact Number: +27 21 419 2501.
Website: Website or Facebook Page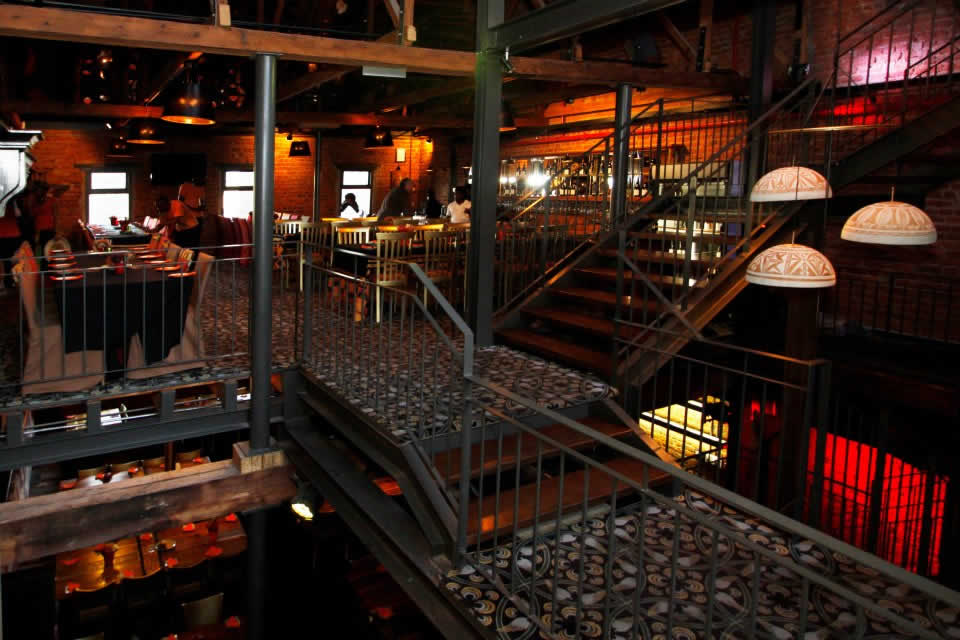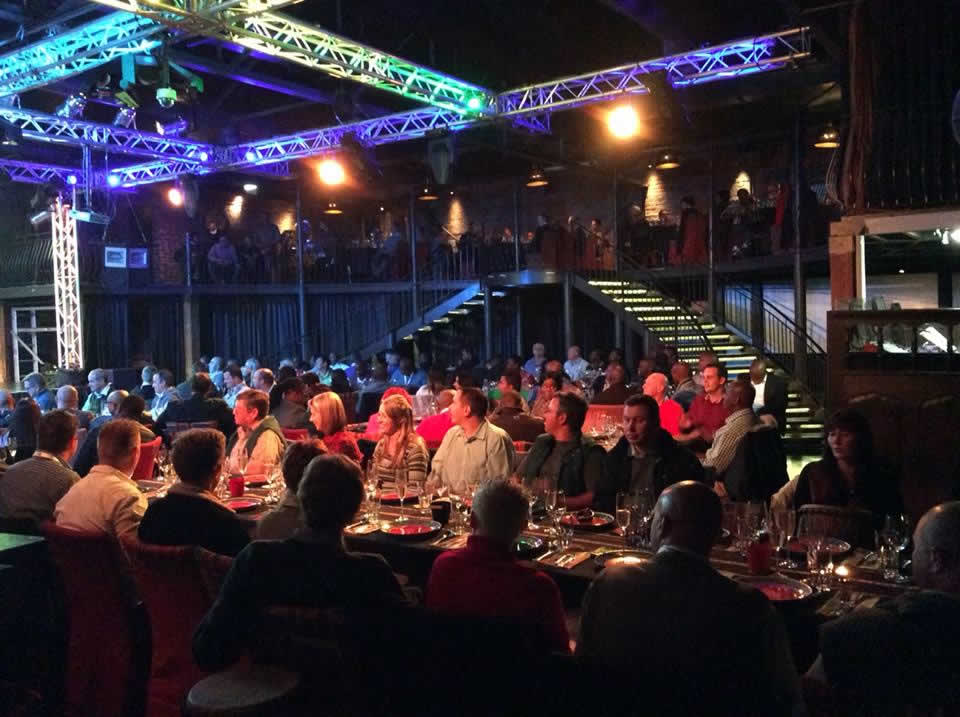 Reasons to go: Prepare yourself to have a unique African experience in all senses.
Their set 14 course Cape Malay and African menu is a taste safari that will transport you from Table Mountain to Timbuktu. This culinary experience is accompanied by unique interactive traditional entertainment.offers 3 unique performances during your dinner, starting with a praise singer who welcomes you to Gold and introduces you to the singers, dancers, puppets and musicians.
The second performance showcases the vibrant dancing and celebrations in Africa and the third performance is in honour of their royal African queens. Their queen will scatter 24 carat gold dust on the guests to say thank you for visiting them.
Africa is home to hundreds of tribes, ethnic and social groups. This diversity is reflected in our cuisine. Geographically and from a
culinary point of view, the continent can be divided into three principal regions: North Africa, sub-Saharan and Southern Africa.
When: Everyday.
From: 18:00 – 24:00.
Where: 15 Bennett Street, Green Point.
Contact Number: +27 21 421 4653.
Website: Website or Facebook Page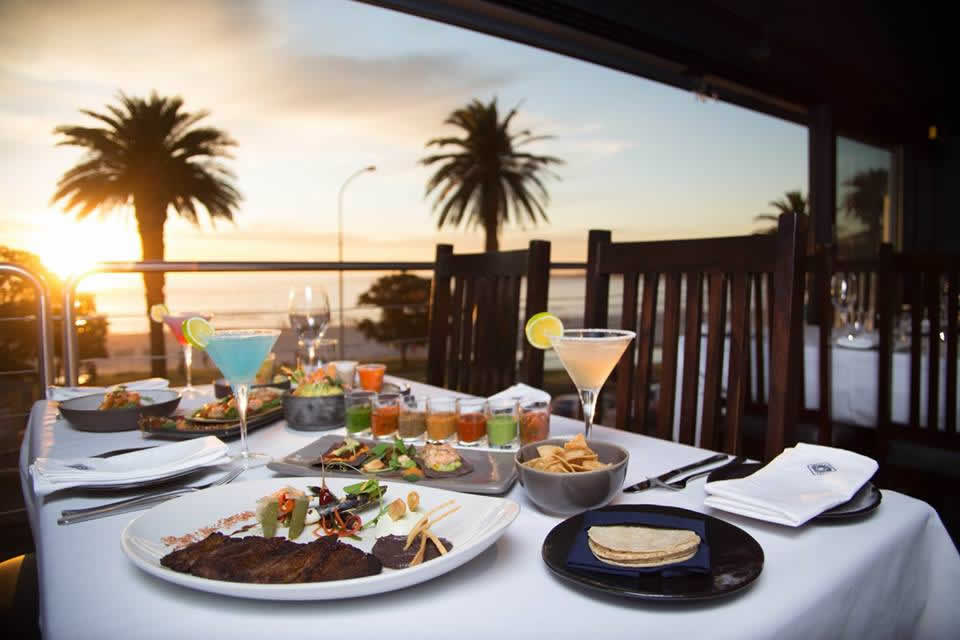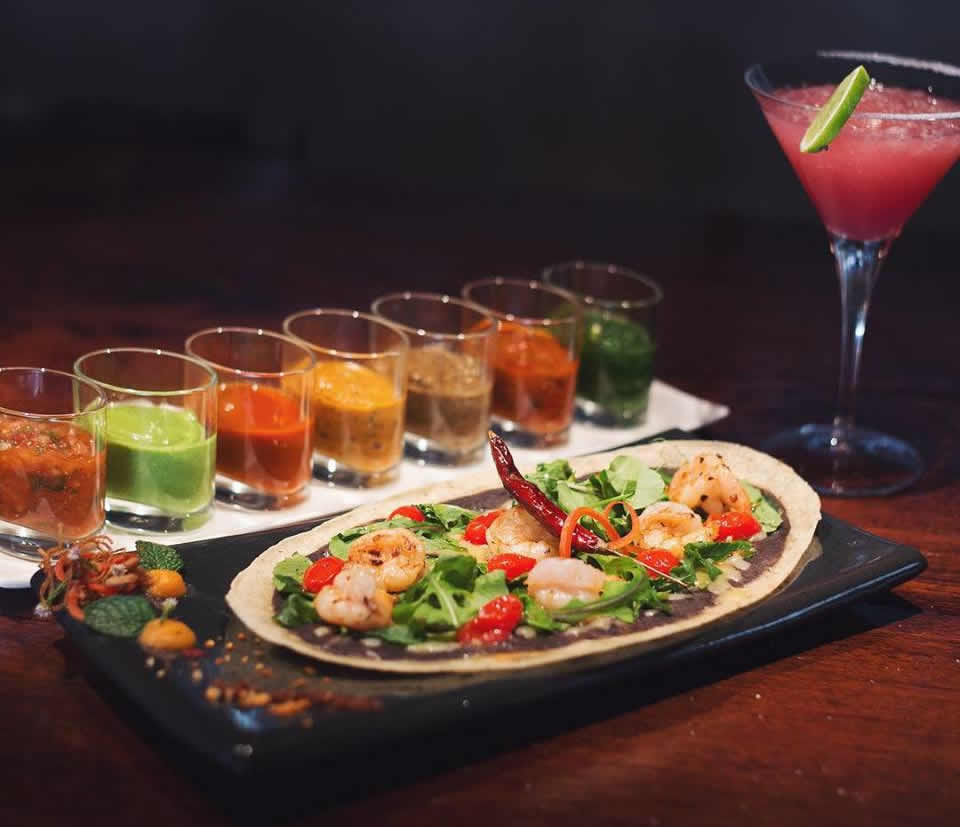 Reasons to go: Del Mar is an authentic modern Mexican food restaurant with the perfect view of Camps Bay Beach.
The menu selection ranges from Antojitos, (tapas), that have been strongly influenced by traditional Mexican street food, to the Platos Principales – mouth-watering main courses, with a twist on original Mexican recipes.
They have an amazing beef rib-eye with mushroom-tequila sauce; grilled tuna with adobo marinade; barbacao (slow-roasted lamb); and carnitas de puerco (slow-cooked pork tacos).
Owned by Sabi and Elana Sabharwal (of award-winning Bukhara and Haiku fame), their latest destination is captivating diners with authentic ingredients, balanced flavours and an enticing array of unique menu items.
When: Everyday.
From: 12:00 – 22:00.
Where: Shop 104, The Promenade Mall, Victoria Road, Camps Bay.
Contact Number: +27 21 437 0333.
Website: Website or Facebook Page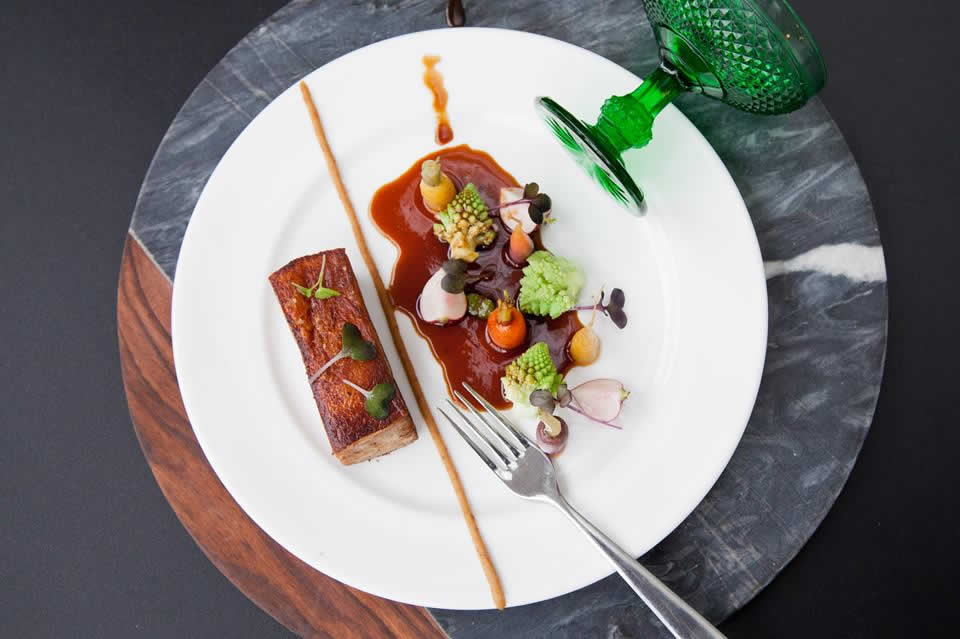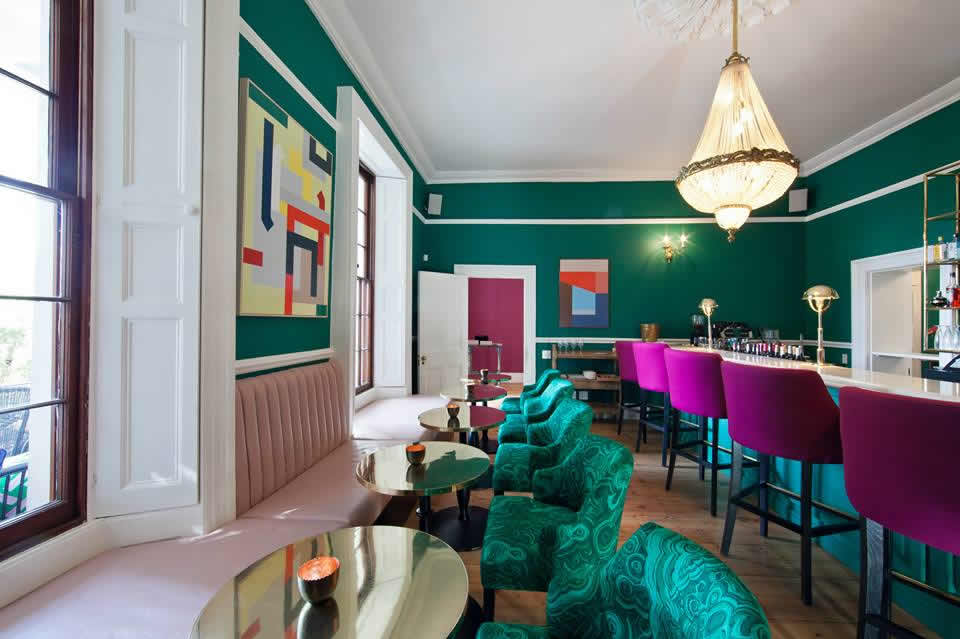 Reasons to go: Frequented by people that you would want to know, the stately Leinster Hall has been brilliantly reimagined and repurposed as The Stack: With an opulent public bar and brasserie downstairs and a unique private members' club upstairs, it's the perfect place to get your swagger on.
The fledgling idea of hotelier Nigel Pace and his designer wife, Sarah Ord, this one of a kind establishment is about to make the Kloof Street hood even cooler, if that is even vaguely imaginable. Between them, they have over 25 years of experience making people feel at home so you'd be foolish not to get in on the ground floor, so to speak.
They love proper food. No smears, no soils, no spumas, froths or strangled ingredients. The Brasserie is authentic, hearty, good and true French. Your go-to local for consistently magnificent fare inside their beautiful old building or on the bloom-scented terrace under a waxing moon.
When: Monday – Saturday.
From: Monday – Friday: 09:00 – 23:00. Saturday: 10:30 – 23:00.
Where: Leinster Hall, 7 Weltevreden Street, Gardens.
Contact Number: +27 21 286 0187
Website: Website or Facebook Page